Welcome to Om Creations Trust
Established in 1991, Om Creations Trust is built with a conviction to make the specially-abled financially independent by uplifting their skills and moulding them into individuals who have earned their rightful place in society. Our vision has grown into a full-fledged programme with over 100 success stories to tell over the last three decades.
We offer creative art as a therapeutic intervention to engage mentally challenged people, based on and intertwined with India's rich culture. This has proven to be a huge success, spreading the wings of our achievements all over the world. In the sphere of mental disability, doctors and health care specialists have recognised our teaching theory and learning method. With an excellent staff and the unwavering support of our loved ones, we have successfully trained many mentally challenged adults, primarily women, in various fields of art such as tie-and-dye & block printing, ceramics, clay sculpture, paperwork, textiles, and culinary skills.
Empowering people with disabilities in meaningful and holistic ways.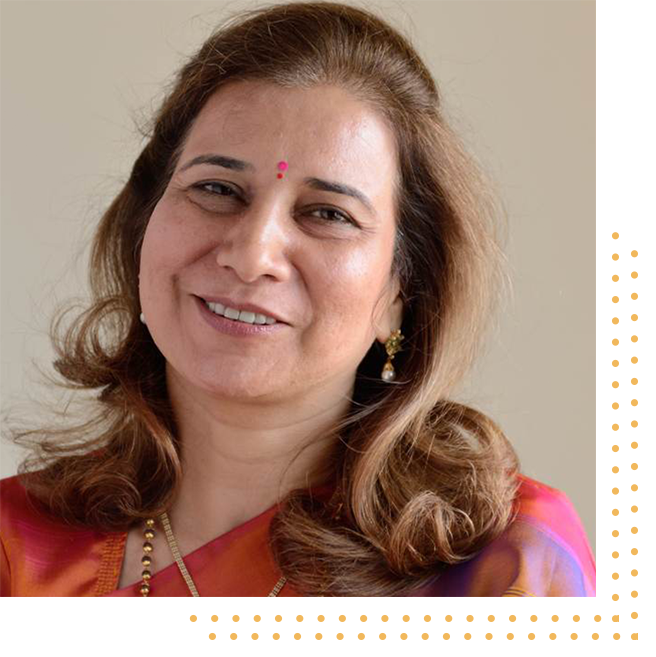 -Dr. Radhike Khanna- A Women of Substance
An educationist, philanthropist, and social worker, Dr. Radhike Khanna is a woman of resilience and the pillar of Om Creations Trust. Her extensive research and innovative teaching methodologies have not only changed the lives of the mentally challenged but have also opened a door to success and happiness for them!

Purvi Shah
Purvi has been with Om Creations for more than 15 years. She is an all rounder. "I enjoy my day at Om Creations. I help teachers and students. I am fondly called the 'boss of Om Creations' as I am the best at my work. I am very talented and I love to do painting. I give the money I get from Om Creations, to my family, I take the money from them as per my requirements & use it to buy my favorite food items, I save enough for me and keep an account of my expenditure".
Anisha Mepani
She joined Om Creations a year ago after having work experience in the USA. She has excellent communication skills and loves dancing. She has a flair to do canvas painting and can independently handle the same. "Om Creations gives me a salary for what I do. I save it carefully. It's my dream to go to London with the money that I save. I care about my parents and I really want to take care of them with my savings"
Neha Pradhan
Neha Pradhan has been with Om Creations Trust for 7 years, and she has turned out to be a confident girl! She is a very enthusiastic, confident, and well-mannered person who has taken the initiative to help others afflicted by similar situations like hers. Her parents are very happy for her as she has acquired many skills and also earns a salary every month. Her journey from being under-confident to being affirmative and assertive has inspired many of us.