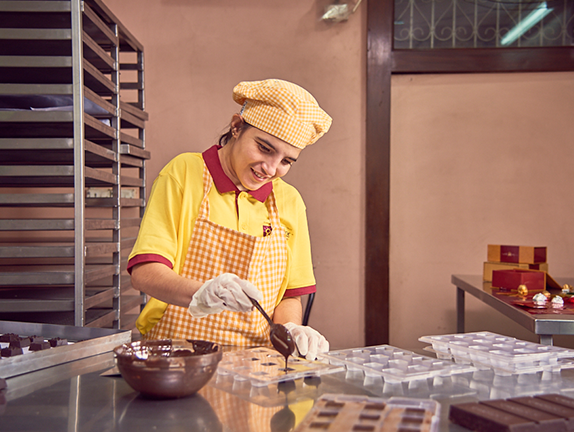 All your catering needs are taken care of at Om Creations Trust! We are an ISO-certified non-profit organization with a diverse range of products ranging from savoury snacks and pastries to diet and baked delicacies that are sure to please! The workplace has evolved in lockstep with the increased demand for delectable products from the Om Food basket. The Bombay Municipality and Bombay Fire Department have also granted us a food license. Apart from the taste, the kitchen is kept spotlessly clean, and personal hygiene is maintained at all times. There is no compromise on the quality and freshness of the ingredients. And indeed, there are no shortcuts to getting the preparation right.
Trained staff, coordinators, and volunteers are always exploring and innovating to serve a wide range of preferences. Chocolates are one such simple innovation that has grown into one of the catering industry's mainstays.
After receiving such a positive response from corporate and individual buyers, Om Creations Trust decided to go a step further and create a brand for its chocolates. "Om Chocolates" was established in 2007 with a striking logo and packaging options. Let's just say, since then, no one could get enough of our luscious Om Chocolates!